Dynasty Financial Partners $10,000 Matching Gift Challenge Met : Powering Independence with $33,625 Contribution to Academy Prep Center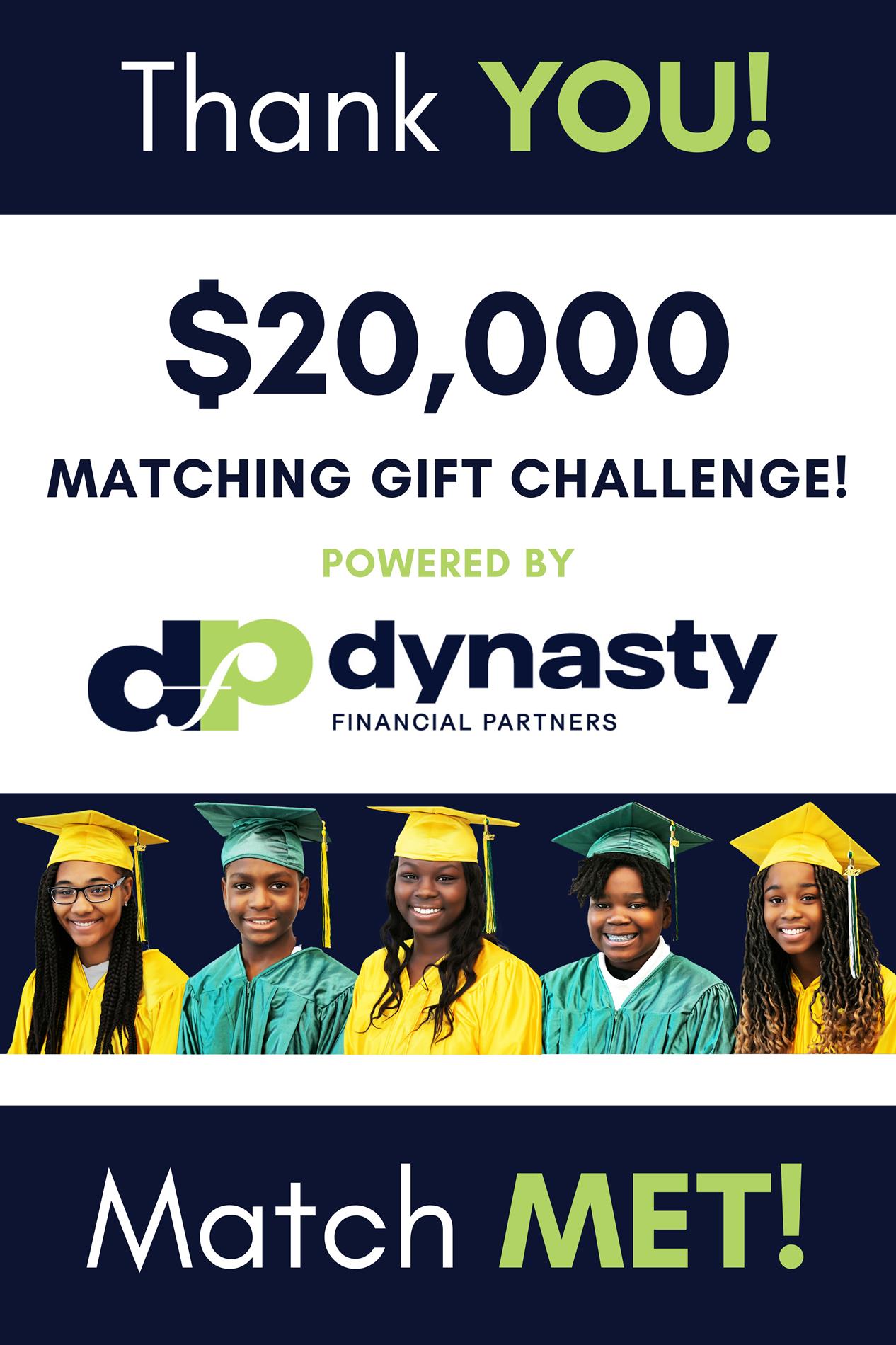 ---
Dynasty Financial Partners $10,000 Matching Gift Challenge Met: Powering Independence with $33,625 Contribution to Academy Prep Center
St. Petersburg, FL — Dynasty Financial Partners, local WealthTech firm committed to powering independence for its network of financial advisors, announced a $10,000 Matching Gift Challenge in early July, to benefit Academy Prep Center of St. Petersburg's Graduate Support Services.
Academy Prep Center of St. Petersburg today announced the Matching Gift Challenge has been met with a total contribution of $33,625.00, made possible by members of the Dynasty network and the local St. Petersburg community. This generous contribution will provide Academy Prep graduates with guidance and financial support throughout high school and college as they grow to become independent community leaders.
Dynasty Financial Partners and Academy Prep commemorated the success of the $10,000 Matching Gift Challenge this past Saturday, August 6th with an official check presentation during the school's Annual Graduate Reunion, also sponsored by Dynasty.
Academy Prep Center of St. Petersburg is a private 501(c)(3) non-profit organization serving Southside St. Petersburg, a community that has long endured the disadvantages of generational poverty and inequitable educational opportunities. The tuition-free middle school's mission is to inspire and empower students qualifying for need-based scholarships to become future community leaders through a rigorous middle school program coupled with ongoing graduate support.
"Like Dynasty Financial Partners, Academy Prep's Graduate Support also powers independence by developing well-rounded, educated, and responsible adults, who are equipped to fulfill their roles as community leaders, and in turn will have a positive social and economic impact on our communities. We
are grateful for this generous gift to our program from such a committed and dedicated community partner," said Desmond Baker, Director of Graduate Support at Academy Prep Center of St. Petersburg.
Dynasty Financial Partners commitment and extensive community partnership with Academy Prep has included hosting financial literacy workshops, volunteering service hours, and funding a new Earn, Invest, Save, and Spend program by Electus - helping Academy Prep scholars learn financial, entrepreneurship, and life management skills.
"We're always looking to get involved in our local community and when we discovered the synergy between Dynasty's mission of powering the independence of our Network advisors and Academy Prep's efforts to power the independence of their students and graduates, we knew it was the perfect fit," commented Mason Salit, Dynasty's Chief Talent Officer. "Dynasty was so happy to be able to make a positive impact in the St. Pete community and in these students and graduates' lives," Salit added.
Dynasty Financial Partners is a leading WealthTech firm based in St. Petersburg, FL, and is well known as the industry advocate for independent financial advisors, helping them succeed through powering their firms. The company's mission is to help advisors achieve their entrepreneurial dream of building a more successful enterprise defined by their ability to deliver high-quality, customized financial advice to their clients. Dynasty provides a variety of resources such as operations and billing, technology, marketing and compliance so the independent RIAs can focus on what matters most, their clients.
About Academy Prep Center of St. Petersburg
For 25 years, Academy Prep has been transforming our community...one child at a time. Academy Prep is a college preparatory middle school located in south St. Petersburg. The mission of the 501(c)(3) non-profit organization is to inspire and empower students qualifying for need-based scholarships to be future community leaders through a rigorous middle school program coupled with ongoing graduate support. Students attend Academy Prep up to 11 hours a day, six days a week, 11 months per year on full scholarships provided by the local community. To learn more about Academy Prep, please visit http://academyprep.org/stpete
About Dynasty Financial Partners
Dynasty Financial Partners is a leading WealthTech platform and the industry advocate for independent financial advisors helping them succeed through powering the future of wealth management. The company's mission is to help advisors achieve their entrepreneurial dream of building a more successful enterprise defined by their ability to deliver high-quality, customized financial advice to their clients. To learn more about Dynasty Financial Partners please visit : https://dynastyfinancialpartners.com