Academy Prep Center of St. Petersburg serves a community that is suffering from a crisis of low educational attainment, including staggering high school drop out rates and some of the poorest performing elementary schools in the nation.
In 2014, at the best-performing of the (5) elementary schools in APSP's neighborhood from which most of our students come to us, only 9% of students passed their English and Math exams in 2014. In the worst of the (5), the figure was only 4%. Take a look below at the Academy Prep difference.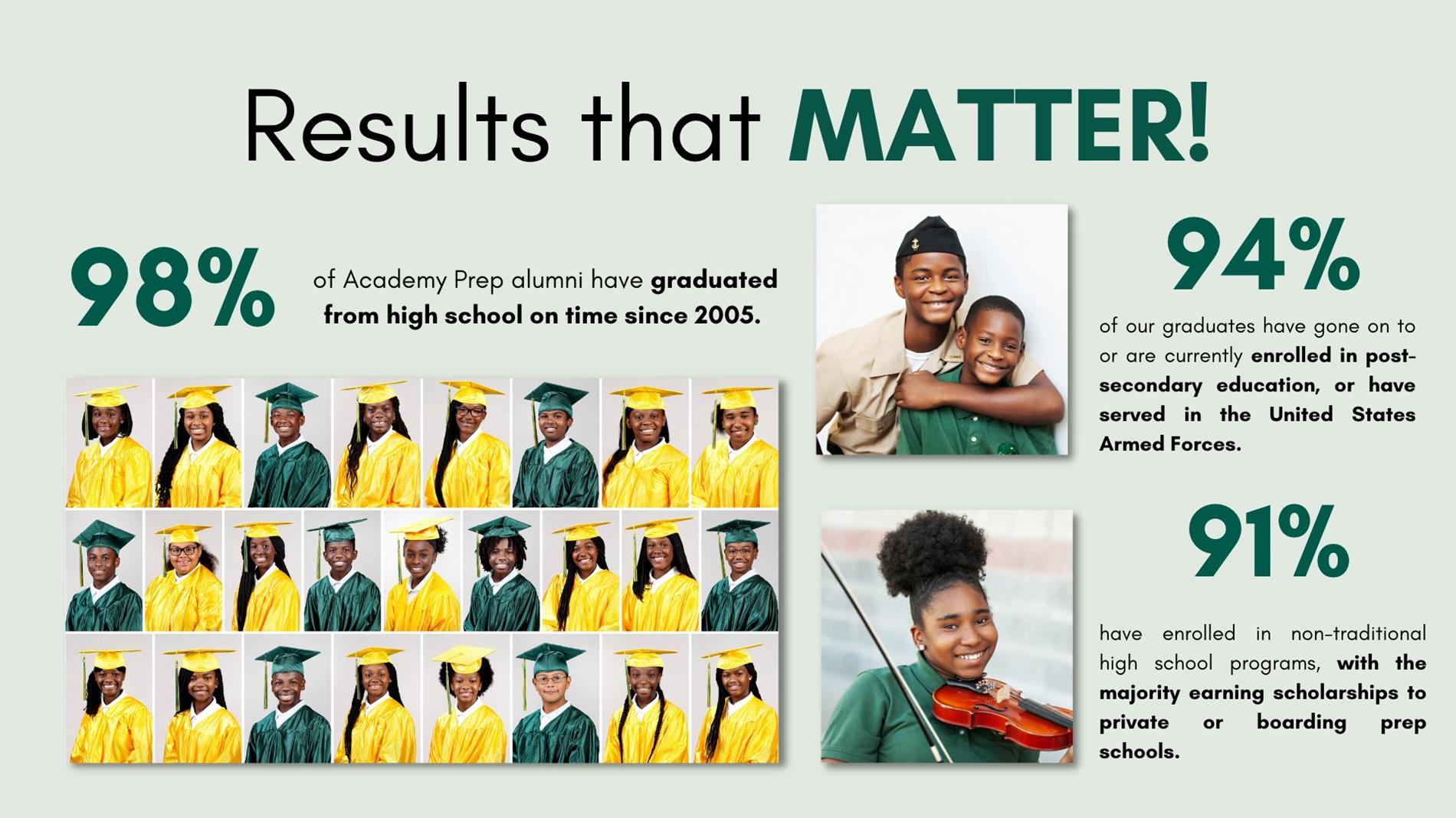 HS Graduation Rate
Since 2005, 98% of Academy Prep alumni have graduated from High School on time.
College Enrollment
78% of Academy Prep alumni have gone onto or are currently enrolled in post-secondary education, and an additional 11% are proud members of the armed forces!
Private / Boarding Schools
After AP, 62% of our scholars matriculate into prestigious private or boarding schools, both in St. Pete and around the country.
A Family Commitment
Students' families go all in for their children's success, contributing over 4,000 engagement hours each year.
Caring Community
In addition to families' engagement hours, volunteers contribute over 2,000 hours each year to one-on-one and group mentoring, homework help, and service projects.
Smart Value
The per-pupil/hr cost of an APSP education is estimated at only $0.04 more than the cost of a public school education in our county (as of 2015).
Record Attendance
At 97%, - Academy Prep students maintain one of the highest attendance rates of any school in the Tampa Bay region.
LOCAL PRIVATE HIGH SCHOOLS
Admiral Farragut Academy
Berkeley Preparatory School (Tampa)
Canterbury School of Florida
Jesuit High School (Tampa)
Keswick Christian School
Northside Christian School
Shorecrest Preparatory School
St. Petersburg Catholic High School
Tampa Preparatory School (Tampa)
TRADITIONAL HIGH SCHOOL PROGRAMS
Blake High School (Hillsborough County)
Boca Ciega High School
Clearwater High School
Dixie M. Hollins High School
Gibbs High School
Lakewood High School
Manatee High School (Manatee County)
Northeast High School
Pinellas Park High School
St. Petersburg High School
Sun Lake High School (Pasco County)
BOARDING SCHOOLS

Baylor School (Chattanooga, TN)
Chatham Hall School (Chatham Hall, VA)
Florida Air Academy (Melbourne, FL)
The Master's School (Dobbs Ferry, NY)
Piney Woods School (Piney Woods, MS)
Rabun Gap-Nacoochee School (Rabun Gap, GA)
St. Andrew's School (Middletown,DE)
Tallulah Falls School (Tallulah Falls, GA)
Vanguard School (Lake Wales, FL)
POST-GRADUATE PREP PROGRAMS
St. John's Northwestern Military Academy (WI)
TECHNICAL/CAREER PROGRAMS
The Boston Conservatory (MA)
Life Skills Center
Pinellas Technical Education Center
Remington College
MILITARY
United States Air Force
United States Army
United States Marine Corps
PUBLIC SCHOOLS (IB/MAGNET/FUNDAMENTAL PROGRAMS)

Boca Ciega High School Center for Wellness & Medical Professions
Boca Ciega High School Fundamental Program
Brooks DeBartolo Collegiate High School (Hillsborough County)
Dixie M. Hollins High School Graphic Arts Academy
Eastlake High School Academy of Engineering
Gibbs High School Pinellas County Center for the Arts
Gibbs High School Business Economics Technology Academy
Lakewood High School Academy for Aquatic Management Systems & Environmental Technology Lakewood High School Center for Advanced Technologies
Lakewood High School Center for Journalism & Multimedia
Manatee School of the Arts (Manatee County)
Osceola Fundamental High School
Pinellas Park High School Criminal Justice Academy
St. Petersburg Collegiate High School
Agnes Scott College (GA)
Albany State University (GA)
Alcorn State University (AL)
Andrew College (GA)
Assumption College (MA)
Ave Maria University (FL)
Bethune Cookman University (FL)
Boston Conservatory
Dickinson College (PA)
Eckerd College (FL)
Edward Waters College (FL)
Ellsworth Community College (IA)
Embry Riddle Aeronautical University (FL)
Evangel College(MO)
Flagler College (FL)
COLLEGES/UNIVERSITIES

Florida Agricultural & Mechanical University
Florida Atlantic University
Florida International University
Florida Southern College
Florida State University
Gardner-Webb University – NC
Howard University (DC)
Joliet Junior College (IL)
Le Cordon Bleu Culinary Arts School
Liberty University (VA)
Loyola University Chicago
Lynn University (FL)
Miami-Dade College(FL)
Northwestern University (IL)
Palm Beach Atlantic State College

Rollins College (FL)
Santa Fe Community College (FL)
Spelman College (GA)
St. Petersburg College (FL)
State College of Florida
Stetson University (FL)
Tallahassee Community College (FL)
Texas Southern University
Troy State University (AL)
Tuskegee University (AL)
University of Central Florida
University of Florida
University of Mississippi
University of North Florida
University of Rochester (NY)
University of South Florida
University of Tampa
Waldorf College – (IA)